Sale!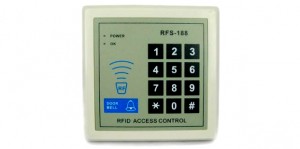 RFID SIMPLE ACCESS CONTROL RFS-188
Maximum users support: 800 users
Reading distance for RFID tags: 1 to 5cm (depends on tags)
Three Door Open Modes: (defined by admin user)
1. Card (Key Tag) & Password
2. Card (Key Tag) Only
2. Password Only
Door Bell Button (can be connected to Door Bell – included)
Operating temperature : -10 to 50 degree C
Humidity range  :  10 to 90 %
Working Power   :  single 12V +/- 20%
Simple operation : Manage RFID cards by keypad on unit, protected by Master Password
In stock
Only logged in customers who have purchased this product may leave a review.